NFL MTV Update Edition 1: Should the Broncos start tanking?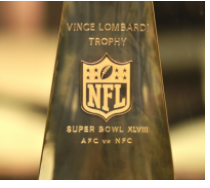 The first week of the NFL season has been completed and with it came a lot of surprises.  
One surprise not many people saw coming was the Seahawks crushing the Broncos in what was the most watched Monday Night football game in a long time.  After getting fleeced in a trade with the Seahawks, Russel Wilson returned home.  After a disappointing outing, with two fumbles on the one-yard line, the Broncos have a lot to go over to prepare for next week's match against the Texans. 
Russel Wilson is making around 48.5 million dollars a year while Geno Smith only makes 3.5 million dollars.  With this amount of money being used on a quarterback you would expect them to play better than the opposing player.  But that was not the case on Monday.  Geno Smith outperformed the Broncos in every aspect of the game.  Geno Smith was so good that the Seahawks scored enough points to win the game in the first half.  It is looking like the Broncos should have solved their Quarterback problem by trading for Geno Smith.
While being in the toughest division in football right now the Broncos are facing an uphill battle to compete for a playoff spot.  My prediction is that Patrick Mahomes will have the worst stats of any quarterback in this division, while the Chargers and Raiders fight for first place.
The Broncos finish with a 7-10 record and miss the playoffs.
For this game against the Texans, I predict that the Broncos solve a lot of problems but lose by a last-second field goal 23-20.
Around the League I see Geno Smith continuing his MVP campaign, Justin Herbert and the Chargers beat the Chiefs, and the Packers keep losing.
Chargers vs Chiefs —– Prediction – Chargers
Patriots vs Steelers  —– Prediction – Steelers
Panthers vs Giants —– Prediction – Panthers
Jets vs Browns —– Prediction – Browns
Colts vs Jaguars —– Prediction – Colts
Dolphins vs Ravens —– Prediction – Ravens
Buccaneers vs Saints —– Prediction – Buccaneers
Commanders vs Lions —– Prediction – Commanders
Seahawks vs 49ers —– Prediction – Seahawks
Falcons vs Rams —– Prediction – Falcons
Cardinals vs Raiders —– Prediction – Raiders
Texans vs Broncos —– Prediction – Texans
Bengals vs Cowboys —– Prediction – Bengals
Bears vs Packers —– Prediction – Bears
Titans vs Bills —– Prediction – Bills
Vikings vs Eagles —– Prediction – Eagles