Broncos Acting like the Seahawks Number One Fan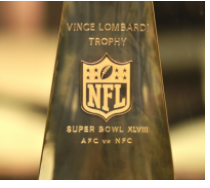 The Broncos still stink.  At this point that is not breaking news.  The Giants might look like a real team.  
Special predictions my nfl division winners.
AFC North –  Ravens
AFC East – Bills
AFC South – Titans
AFC West – Chargers
NFC North – Vikings
NFC East – Eagles
NFC South – Bucaneers
NFC West – Seahawks
I went 7-7 last week in my predictions.  Not that good. Lets see if I can pick it up.
Saints vs Cardinals – Prediction – Saints (The Cardinals offense can not score points.  Saints aren't great team but can do enough to win.)
Browns vs Ravens – Prediction – Ravens (Both of these teams have struggled to close games this season.  The Ravens pull out a close game.)
Bucaneers vs Panthers – Prediction – Bucaneers (bucaneers bounce back against league worst Panthers.)
Falcons vs Bengals – Prediction – Bengals (The Bengals keep rolling against a better than expected Falcons team.)
Lions vs Cowboys – Prediction – Lions (Dak returns and Dak fails.  You heard it hear first.)
Giants vs Jaguars – Prediction – Giants (The giants seem like a real team and the Jaguars keep losing.)
Packers vs Commanders – Prediction – Packers (Packers win but the game will be very close.  Aaron Jones goes off.)
Colts vs Titans – Prediction – Titans (Titans have  a better team and take control of the AFC South)
Texans vs Raiders – Prediction – Raiders (The Raiders are coming off a bye.  I think they are a much better team than 1-4 and will come away with a solid win.)
Jets bs Broncos – Prediction – Jets (The Broncos Suck.)
Cheifs vs 49ers – Prediction – Cheifs (The 49ers are inconsistent and can't keep up with the Cheifs.)
Seahawks vs Chargers – Prediction – Seahawks (Seahawks are rolling and will beat the Chargers who struggled to beat a bad Broncos team.)
Steelers vs Dolphins – Prediction – Dolphins (The Dolphins win in Tua's return.)
Bears vs Patriots – Prediction – Patriots (The Bears can't throw the ball.  You can't win when you do that.)