Humans of Montview-Imani Tauaese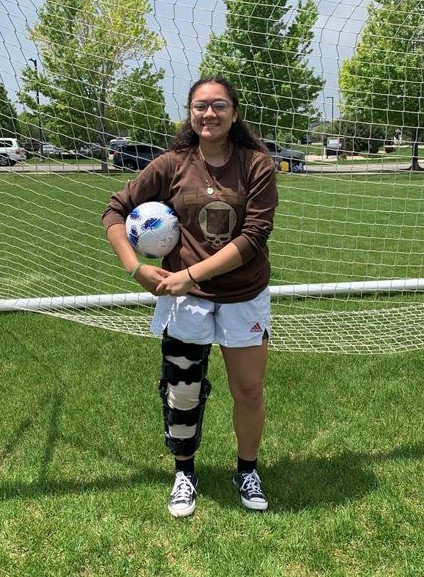 The crowd watches as a player on the 07 team angrily slide-tackles Imani Tauaese, who has control over the soccer ball. Hyperextending her knee, Imani tears her meniscus, fractures her tibia, and bruises her femur. Thinking later that she's okay to get back on the field, Imani collides with another player, tearing her ACL and stretching both her LCL and MCL. 
As people get to know Imani(11), they are welcomed with her passions. Her love for soccer and law shine through and through.
Imani has played soccer since the age of 3, about over thirteen years now. But since being injured, she has not been on the field. 
"It was a little hard dealing with my injury because I got unmotivated but now I'm itching to get back on the field before college." Imani said. "Right now, I am in a brace because I just had another surgery but now I always look for a silver lining, you know?". Motivated by providing for her family, Imani continues to stay positive despite the unfortunate injuries. 
Not yet being back on the field, a new passion ignited for Imani: law. As a part of the student council, the anti-defamation league(ADL), and mock trial in school, that passion only grew. 
When asked what drew her into law, Imani laughs,  "If I'm being honest, true crime documentaries and dateline". In addition to this goal, mock trial was a perfect choice. "It helped me take a step closer to what I want to pursue."
 "I want to own my own criminal defense law firm and be the managing attorney." Imani secured an internship with a law firm where she will continue to intern in the upcoming summer. Imani organized and even looked through cases, collected evidence, and ultimately transcribed an interview with a main suspect during her internship.
"I feel like the best qualities a lawyer should have are grit, honesty, and perseverance." Imani said. Practicing all three already, Imani is sure to make a great lawyer. This is commonly believed amongst her friends.
"I think that she has the drive and passion to create change and be there for people. She really enacts the compassion and dedication of a lawyer, which is why she would be a great lawyer." A friend of Imani, Adella Newray(11) said.
"Imani would be a good lawyer because she makes good points and she's assertive," said Ahmed Eisa(11), yet another friend of Imani's. 
Imani is not just a big help in school or at her internship. Outside of school, Imani takes care of her little brother. 
"My biggest influence is my mom because she is strong, independent, and tough." Imani said. "Being there for my family to rely on me whenever they need me motivates me."
Imani is very family oriented. She values honesty and her loved ones alongside proudly representing her Samoan heritage.
"I think when people have more resources, they are able to have connections and actually connect with people who can support them to get to where they want to go and beyond. So, having both resources and support go hand in hand," said Imani when asked about reaching goals.
Imani's charisma and dedication will ultimately help her succeed in her goals. Whether it's being back on a soccer field or being a killer criminal defense attorney, Imani is sure to shine.