Article of Positivity
Although there have been many negative things through the past week, there have been positives as well. Everyone is able to focus on the negatives more than the positives. So that is why this article will dig up some of the positives that people have ignored, never heard, or forgotten.
First up
One positive that the negatives have brought up is, the fires have brought the good out of people. According to Denver 7 news, Sill-TerHar Motors' Ford showroom in Broomfield "started sorting and changing the showroom from a showroom full of cars to a showroom for all of these items," Larson said. From clothes to toiletries, kids toys and everything in-between, those affected by the Marshall Fire can stop by the showroom and leave with items they need as they restart to rebuild their lives. "People who lost their homes in the fire are going through a lot right now, and this is the least we can do for them," said Payal Goyal, one of several volunteers helping to organize the donations."
COVID report
Another great thing in the community is that vaccinations have been up! The state of Colorado now has around 66.2% of its population vaccinated. Furthermore, 9.52 million vaccinations have been given out, and 3.81 million people are fully vaccinated. This is great news especially because of the new COVID strain that is out. Hopefully all these vaccinations will help fight against the new strain of COVID. 
If you thought this was all you would be wrong, millions of dollars have been raised for people who lost their homes in the Superior fires. According to Denver7 news, "The Boulder County Wildfire Fund has already received more than $12 million in donations from more than 43,000 people, and another $14.6 million has been raised through GoFundMe as of Tuesday afternoon for victims of the Marshall Fire." This is great news even in the middle of all the bad the Superior fires caused. We encourage you all to help out as well even if it is a small donation.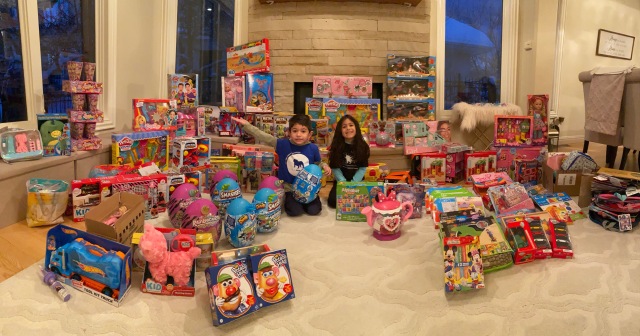 Image: Two children donated 200 toys to Superior fire victims.
Another great thing that is going on during the aftermath of the Marshall fire is a local artist is offering to make free pet portraits for families that lost pets during the fire. Angela Hacker is a veterinary technician who knows how much pets mean to people. "I don't know where I'd be without my pets. I have severe depression… My cats, my dogs, they keep me going. They're the reason I get out of bed. I became a vet tech because animals have done so much for me that I wanted to give back to them somehow," said Hacker. Hacker is also an artist who does pet portraits. When she saw the destruction caused by the fires in Boulder County, she knew she had to help. "I would do a portrait for them if they had lost a pet in the fire," Hacker told Denver7, saying these portraits would be free of charge. Hacker made a post on Facebook about the idea, and was shocked by the amount of positive support she received. She hoped her offer would not seem trivial in the face of the trauma hundreds of families experienced. "It's not going to bring anybody back. That's not going to fix everything. But, I was hoping that it would just be, going forward for them, a token that they knew somebody cared, and they weren't dealing with this by themselves," explained Hacker. 
Many people have felt the positivity of the past two weeks, including many students at our school! Here are a few quotes from students feeling the positivity. Student 1 said, "I love how everyone is so supportive." Student 2 said, "How Wednesdays are a nice break to look forward to in the middle of the week." Student 3 said, "I have always looked forward to having a good time at lunch." These are just a few of the great positives from students in our community. 
Although there are many negatives trying to tear apart the community, these negatives have brought out the best in people and their urge to help. We hope it has brought out the best in you and your call to action as well. Joke of the day, "What happens when you get a bladder infection? Urine trouble!!!" 
Thank you for reading, and we hope you have a good day. 👍😊
Source: https://www.wptv.com/news/national/colorado-artist-offers-free-pet-portraits-for-families-that-lost-animals-in-wildfire#:~:text=Angela%20Hacker%2C%20a%20veterinary%20technician,d%20be%20without%20my%20pets.&text=Hacker%20is%20also%20an%20artist,knew%20she%20had%20to%20help.