The Never Ending Saga of Morning Meeting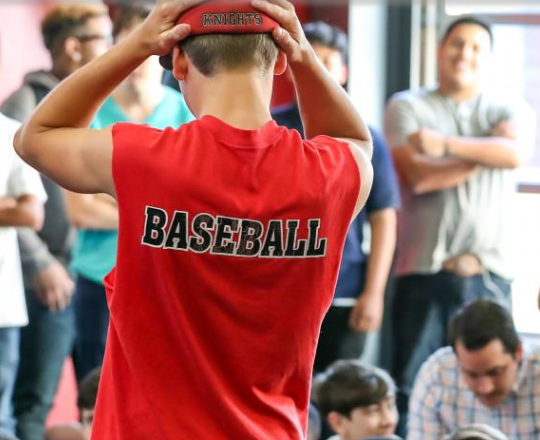 It's 9:20 am on Monday December 17, 2019. In the atrium of DSST: Montview High School, students fill in to every nook and cranny to participate in a weekly occurrence, morning meeting. Students Ethan Teplitzky and Mateo Ruby get up in front of the crowd to perform a karaoke rendition of "Tequila". The pair stands up there for several moments before saying the one word of the song which was met with a large laugh from the audience.
Simply put, morning meeting is when the entire high school gathers together in one area to hear presentations on topics ranging far and wide. However, morning meetings don't necessarily have to be a serious speaker lead presentation, with some morning meetings being as simple as a student band playing a few songs for the community. These meetings last for about 20-30 minutes and are typically lead by staff members with the occasional student or guest lead meeting.
The tradition of morning meeting goes back to the founding of the school in 2004. But as the school has changed, so has morning meeting. When asked about the big differences between morning meeting back then and now Ms. Krueger, a former student, quickly responded with, "Size… we have a large number of students now, so it has gone from nice and tight in the middle of the commons to on to the stairs and behind the curtains,"
Most students all echo that thought as well, "It's just too much," says sophomore Justice Jones, "it's hard to listen and be engaged in a presentation when I have somebody breathing on the back of my neck,"
The students have been forced to back away from the center of the commons for a multitude of reasons including not only size but also safety. "Due to fire code we had to move a lot of people on the stairs and upstairs so they'd have an exit," Says school director Mr. Hugo, "but with that move, a lot of students upstairs just couldn't hear."
With these problems in mind, the school has made changes to try to accommodate to the rising need for space and to make morning meeting more engaging for students.
Instead of 2 whole school morning meetings and one prep academy or senior academy morning meeting, the prep academy and senior academy meetings have been changed into grade exclusive gatherings.
"We wanted to have a more personal morning meeting," says tenth grade Spanish teacher Ms. Perales, "because we know that the same issues don't affect ninth and tenth grade."
But unfortunately, not all students are enjoying these changes as much as the school would've hoped. Sophomore Mabior Mabior said, "It didn't change anything, the school always thinks the problem is something about morning meeting and not morning meeting itself,"
Mabior and plenty of other students have been pushing for morning meeting to just be abolished altogether. However, school officials seem committed to keeping morning meeting alive.
"I believe that if you can operate in a meaningful community that is supportive, students do better" says Mr. Hugo, "so we felt like it's a necessity to do that."
It's part of the school's philosophy that students will prosper more within a stronger community, and an easy way to get the whole school together and build a stronger community is morning meeting.
Morning meeting remains one of the fundamental building blocks of this school's ideology. The school is constantly preaching the idea of community and strength in numbers, not because it sounds like something that the school would say, but because it's what it truly believes.
As for the future of morning meeting, it's hard to say where it's going. It seems unlikely that there will never be changes again, as problems come and go, but the school knows what it wants morning meeting to be. To quote Mr. Hugo, morning meeting at its core should be, "energetic, cohesive, dynamic and safe."