Denver Nuggets Season
The Denver Nuggets are an NBA organization. Their roster consists of Jamal Murray, Nikola Jokiĉ, Paul Millsap, Gary Harris, Jerami Grant, Monte Morris, Mason Plumlee, Will Barton, Malik Beasley, Juan Hernangomez, Michael Porter Jr., Jarred Vanderbilt, Vlatko Čančar, PJ Dozier, and Bol Bol.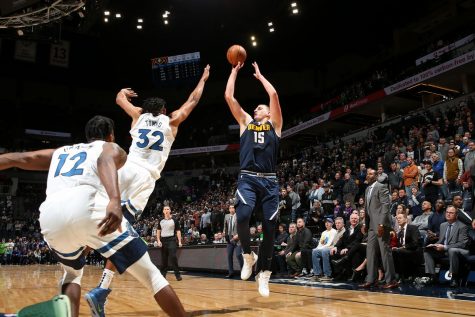 The center of our starting lineup is our all-star, Nikola Jokiĉ. He is the best passing big man in the league and was top 5 in MVP voting last season.
Our power forward is Paul Millsap. He is getting old but was a four time all-star and is a great veteran leader for the team.
Will Barton is the small forward and is a great offensive threat. He can do everything on offense decently well. He can be inconsistent shooting the ball sometimes, but he is a good starting small forward.
Our shooting guard is Gary Harris. He is extremely consistent and a great shooter. He is also clutch and an above average player. Gary Harris is also a tenacious defender.
Our point guard is Jamal Murray. He is an all-star level talent and has potential to be a superstar. He's clutch and can hit shots. He can go off at any given night. He got rewarded with a max contract last season.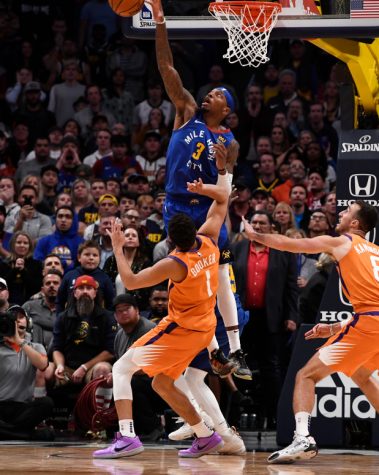 The rest of our rotation consists of Torrey Craig, Monte Morris, Malik Beasley, Mason Plumlee, and Juan Hernangomez.
Monte Morris can do everything on offence and is an unselfish play maker. Torrey Craig is an energy guy with jaw-dropping dunks and blocks. Malik Beasley is good at everything and can go off on any night. Mason Plumlee is a great center who does what a center is expected to do at a high level.
The rest of the roster in un-proven and young. They could develop to be good rotation pieces, all-stars, busts, or bench-warmers.
Our coach is Mike Malone and he is a great coach, who has a successful record as a coach. Our mascot is Rocky and in the consensus best mascot in the league. Our staff in general is great and is what our players need to succeed.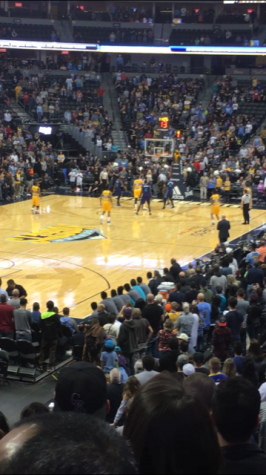 Current 2019 record is 17 wins and 8 losses. We are currently 4th place in the western conference. We are current championship contenders. We've beaten top teams like the Celtics, 76ers, Heat, and Rockets
1 "I think there's a better player than me that's gonna win MVP. I'm just trying to play really good team basketball," said Nikola Jokiĉ after his win against the Thunder.
He is a team player that just wants to win games. This is great mentality for the leader of our team to have and it seems to be working with him almost averaging a triple double.
"The Nuggets are having a great season, I truly enjoyed the game I went too. We are so good! Plus, I saw Mr. Paul," said Elena Barth when she went to the game.