Students and Teachers During Quarantine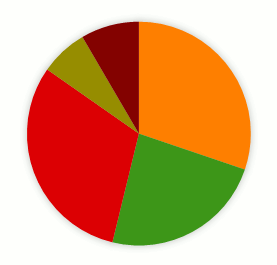 I know that a lot of us wake up every morning thinking about how similar every day has been for the last 2 years… oh wait… it's only been 7 months. Spending this much time quarantined has been strange and it's fair to say that some people can begin to feel stressed out or bored. That's why it's so important that we keep ourselves distracted from the problems of the outside world by staying busy. To some that might be something like playing outside, going to work, or simply staying inside and watching the world burn from your phone. Us here at MTV News wanted to investigate what some of the teachers and students' favorite pastimes are by reaching out and sending a survey to the MTV community. Here we've compiled a few of the students and teachers responses for your reading pleasure.
Just as a heads up, we also hosted a raffle in which 5 whole dollars will be given away to one lucky survey taker. We'll announce the winner at the end of the article. Keep reading, it could be you!
Favorite Sports
Many students have turned their attention towards exercising to kill time. That's why we asked students what their favorite sport has been and whether or not they play sports. The results show that… 

Basketball is the most popular sport that has been enjoyed over quarantine. This can come as no surprise to many as there have always been people playing these sports during our breaks. It's good to see that we are still enjoying being outside as physical exercise is one of the best ways to pass the time whether you're with others or by yourself. Still, one-third of responses claim that they do not watch or play sports. This is by no means a bad thing though, we have to keep in mind that everyone's different and if you find enjoyment in some other manner, that is completely ok. 
Most Used App During Quarantine
Let's be honest, we've all been using our phones or other electronics to keep ourselves busy lately. Because of that, we asked students and teachers what app they've been using the most recently, and here are the results.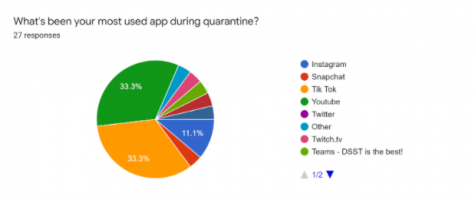 The most used apps that have been used during quarantine are Youtube and Tik Tok, and the next most used app that people have been using during quarantine is Instagram. I thought that Tik Tok would be the most used app because of how many people are addicted to that app. From experience, I know that Youtube can be really entertaining and addicting. Once you get on, it's hard to get off and do something else.
Have You Gotten Closer to Your Family Over Quarantine
Many people are cramped in their house and have to spend all day with their Family. Has this brought us closer or has this been unbearable? Here's what you said.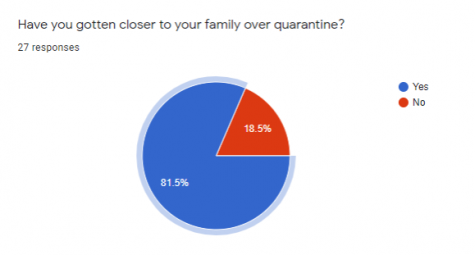 Well, it looks like most people have improved their relationship over quarantine. This is great to see because quarantine has been hard on everyone, so it's nice to see people getting along.  
What Time Are You Waking up For E-School
With E-school you can get to the classroom really fast. Is this causing you to sleep in more? What time do you think people are waking up? Well here are the results!

Here's how our school responded. Most people tend to wake up around 7:30 am, with a close second being 6:45 am. Looks like we have a lot of early birds here at MTV! The latest that others wake up is around 8:25, and the earliest is 4:00. The range of times these answers cover is impressive, to say the least. E-School has undoubtedly impacted everyone's schedules in some way or another, but as long as we're all awake by 8:30 then all is well!
Has Quarantine Been Enjoyable
Quarantine has had it's highs and lows, that's for sure! We wanted to hear what the MTV community had to say about quarantine, and here are those answers.

The results show that more than half of us have somewhat enjoyed our quarantine. Now, like we said before, quarantine does have its ups and downs so it makes sense that we would get an answer like this. Interestingly enough 25 percent of people have said that quarantine has been enjoyable. For some, needing to be quarantined for this long has completely changed them, this is not true for all though. As we can see on the chart, indicated by the green, the past several months have not felt like much of a challenge to some. Although it's not a big percentage of the responses, I'm sure that there are those of us who can relate to that feeling.
Favorite Quarantine Snack
We all love eating our favorite snack, but during quarantine, this is something we all look forward to. What do you think our school's favorite snack is? The answer is very shocking.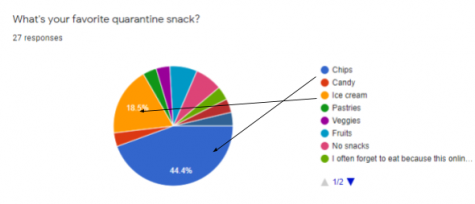 I bet you were not expecting that one. Chips wins by a mile. The next closest is ice cream. Only one person has answered veggies. Wow, am I disappointed. Well, the people have spoken, chips are the best quarantine snack.
How Are You Liking E-School
E-School has had its highs and lows, that much is certain. We wanted to know how the MTV community is feeling about E-School, and this is what they said.

Here's how our school responded. Interestingly enough, there was a tie between mostly and somewhat enjoying E-School. It's encouraging to see that despite the challenges E-School has presented, our school finds a way to make the best of it and make E-School as enjoyable as possible! Roughly half of the responses described E-School as anywhere between neutral to not enjoyable whatsoever. That's a fair opinion, and I'm sure everyone is hoping we can return to at least some version of normal as soon as possible. In the meantime, let's strive to make every day of E-School as great as it can be.
Thank you everyone for checking out MTV news. We recommend checking out more pieces of work around the site. We really appreciate it and hope to see you checking out our post soon. Hope you have a wonderful fall break or had a wonderful fall break depending on when you are reading this.
As promised, the winner of our gift-card is Mr. Esposito.  You will receive your gift card once we return to in-person learning. Congrats!