Super Bowl 54
Hosted by Miami, the Kansas City Chiefs and the San Francisco 49ers squared off to play the biggest game of the year. 
The Super Bowl. 
This is the first Super Bowl for the Kansas City Chiefs in 50 years.
In the first quarter, the Chiefs received the ball. The 49ers defense made a three and out and forced the Chiefs to punt.
49ers took possession of the ball and drove down and scored.
It is 3-0.
 The Chiefs get the ball back and use their possession for a touchdown.
 7-3.
Just like that. The Chiefs took over and had the lead.
 Let's move ahead of the game. During the 4th quarter, the 49ers were winning the game 20-17 with  2:44 minutes to go. The Chiefs had the ball.
Patrick Mahomes throws the ball to Damien Williams. This is the most important play out of this whole game.
Damien Williams took a hit from Richard Sherman which made him lose his balance.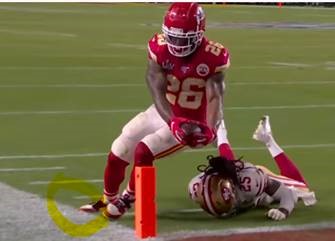 And then this happened… Where you see that highlighter, that is Damien Williams feet stepping out of bounds.
But, the ball was across the goal plane.
If your feet touch the out of bounds first and you reached out to get the ball to cross the plane, it wouldn't count as a touchdown.
But officials did a booth review and the call was… Touchdown. 
The score was 20-24.
This one play here gave the Chiefs the winning blow.
If it wasn't for this play right here, the Chiefs would either go for it in 4th and 1 or take the field goal.
In the end, the final score was 31-20, the Chiefs with an "amazing" comeback late in the second half.
 But if we think about it, if the refs would've called Damien Williams out of bounds, this game would have been the 49ers ball game.
But this one play right here was the game-deciding play the refs lost again.
This hasn't happened once.
Remember last year, the Rams and the Saints?
Yeah, that should be enough by itself.
But if you don't remember, here's a photo.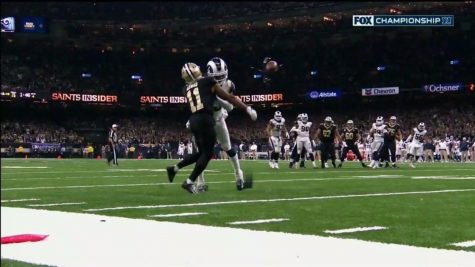 But anyway, it was better than last year's Super Bowl so people shouldn't be mad.
But besides that take care of every one and Go Lakers!