Netflix vs. Disney Plus??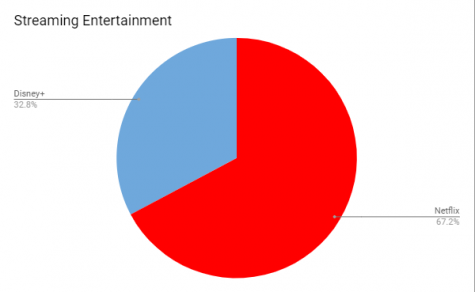 When asked the question, "Do you prefer Netflix or Disney plus", a very interesting and in depth conversation arises. To some people Netflix is their go to answer with no hesitation. Is it because of the wider variety of movies and shows? Or is it the more mature and higher rated options for teens and all ages? Whatever the reason, teens that range from ages 14-18 prefer Netflix by a small percentage higher than they prefer Disney Plus. For students like Montell Flemming, Netflix is much more preferred because, "Disney Plus is really good, but only in certain moments; Netflix has a little bit of everything while Disney Plus is more family based." When looking at the data presented, one can see that out of a total 61 randomized answers, a total 41 students responded with "Netflix", while 20 out of those 61 responded with "Disney plus". So why is Netflix really winning with just a little over than half more votes? Well, it could be because of the simple fact that Netflix simply gives way more options. For instance, in the first year, Disney plus will have 500 movies and 7,500 TV episodes compared to Netflix's more immense amount of 4,000 movies and 47,000 TV episodes. With this pro of having Netflix, teens just like the ones here at DSST: Montview, ranging from a stage of just becoming a teen, all the way to a just about adult can find whats right for them- "for any mood". For one sophomore, Munkhjin Tsogoo, who is currently watching a very popular show (over the year) on Netflix called "Grey's Anatomy", strongly believes the simple look on the streaming service, believing,"Disney Plus is just for children". With all the opinions being vocalized throughout the week, a very interesting sense of logic came up quite a few times: Maybe teens ranging from freshmen to seniors in high school are more fond of Netflix because of that point that Munkhjin stated…to growing teens, Disney Plus is just for children. As teens are growing into these young adults throughout high school, knowing that they passing the PG-13 age requirement, they want to make the most of this achievement and watch more mature and realistic content, knowing they are able to.
About the Writer
Ja'Nya Daniels, Writer
Ja'Nya Daniels, a 15 year old who is a sophomore at DSST:Montview. She finds interest in things like hanging out with friends and family, mall shopping,...